What is a Simple Cremation?
Do you want a funeral with no fuss? Are you looking for an affordable cremation?
At Towners, we believe in offering bespoke funerals catered to the needs of any unique and meaningful requests. You may be wondering "what is a simple cremation?" and whether it will make sense for you or your loved one. The term "simple cremation" can mean different things and we would like to bring some clarity so that people have a better understanding of what to ask for when approaching their chosen undertakers.
The Difference Between a Simple Cremation & Direct Cremation
Our definition of a simple cremation would be slightly different to a direct cremation, which would not involve any funeral service. A simple cremation could involve a basic traditional funeral service and our bespoke approach, would mean that the service could be pared down or include specific details for any individual needs.
Whether you're considering your own wishes or know that your loved one would not like the formality and ceremony that goes with a full-on traditional funeral, a simple cremation service may be a fitting choice.
A Bespoke Simple Cremation from Towners
The bespoke funeral packages we offer mean that the cost and setup are unique for each funeral service. If you're thinking of requesting a simple cremation, or choosing this for a loved one, you can use this comparison chart to easily see the variety of options available.
Simple & direct cremations can also be an eco-friendly funeral option, which we discussed in more detail on the Golden Charter podcast.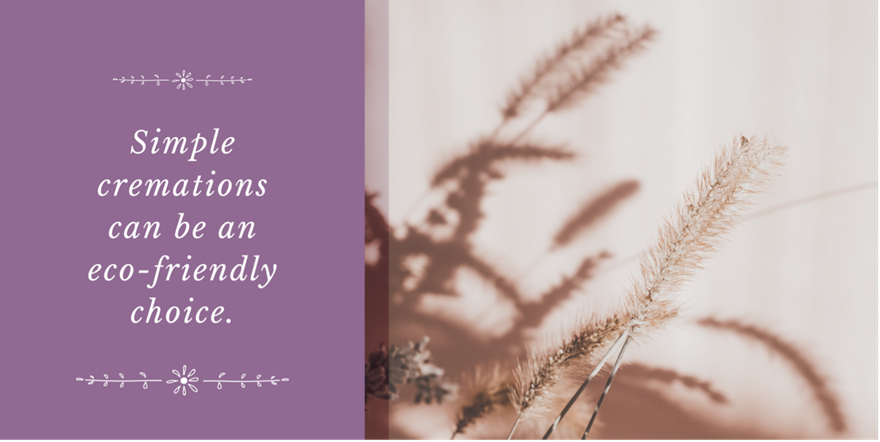 How much does a simple cremation cost?
The cost of a simple cremation may also be a factor in selecting a pared down funeral option as it can be a cheaper way of laying someone to rest. A direct cremation costs around £1,360 including crematorium and doctor's fees and reduces cremation costs by up to 50%. With a simple cremation, you could add on features to a direct cremation package and include details that feel meaningful to you. With the average cost of a simple cremation being significantly cheaper than a complete traditional cremation or burial, this is a feature which appeals to many people.
What happens at a direct cremation?
Comparatively to a bespoke simple cremation, a direct cremation does not have a funeral ceremony & the service will have no attendees, witnesses or mourners attending. There will be a simple and plain cremation coffin, which provides an affordable and dignified way to quietly be laid to rest.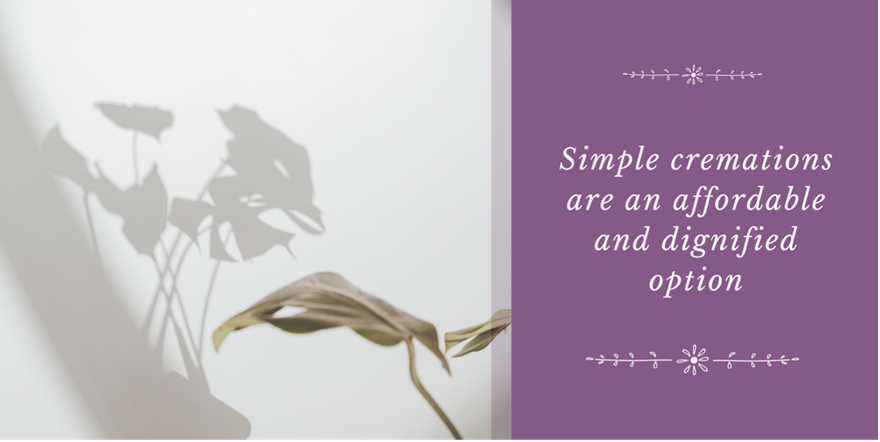 Your Ceremony, Your Choice
If you wanted to attend the committal of your loved one, we recommend choosing our Enhanced Direct Cremation service so that the funeral director will be in attendance to help you.
When choosing a simple cremation, it is still possible to have a separate Memorial Service or Ceremony of Thanksgiving without the body. By arranging a service independently after the cremation, families have the freedom to arrange a memorial service to fit their taste, budget and timelines.
Whether you choose a simple cremation for the simplicity or affordability, our caring and friendly family run funeral directors are happy to discuss any questions you may have about how to build the perfect funeral package for you. Please contact us by calling 01424 436 386 or email info@towners.co.uk