Celebrating Life: a Guide to Non-Religious Funerals
With over half of people in their twenties in Britain stating they hold 'no religion', organised faith and the aspects of funerals associated with it have quickly become optional. At Towners we hold dear that people should not just be empowered to fulfil their own wishes for their funeral, but be informed as to what alternatives and personal choices are available to them. Keep reading to learn more about the possibilities of a non-religious ceremony.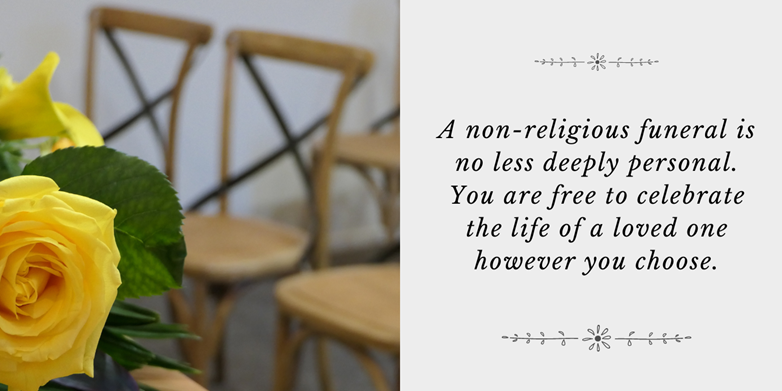 Tone and Setting
Without reference to the afterlife, many non-religious funerals focus on the uniqueness and value of the life of the deceased, celebrating their achievements and what made them who they were. Proceedings can be solemn and thoughtful, or vibrant and full of colour and humour. Furthermore, there is no need to follow a traditional setting – feel free to find out whether a ceremony in a favourite place to visit would be possible, and other ideas could include the home, a crematorium, a natural burial site or a parish hall. Many people find that a familiar setting can set their minds more at ease in a difficult time, or bring them closer to their favourite memories associated with the person.
Music and Readings
Many choose to add an extra personal touch and replace religious hymns and music with a person's favourite songs, a live performance from those close to them, or a non-religious song that encapsulates the feelings or memories of those who knew them. Sometimes a song that people are more likely to know can also be a powerful choice, and some popular options include:
Nimrod (from Enigma Variations) by Edward Elgar
My Way by Frank Sinatra
Let It Be by The Beatles
Always Look On The Bright Side of Life by Monty Python
Claire de Lune by Debussy
You'll Never Walk Alone by Gerry & The Pacemakers
What A Wonderful World by Louis Armstrong
Lay Me Down by Sam Smith
Time To Say Goodbye by Andrea Bocelli and Sarah Brightman
Bridge Over Troubled Water by Simon & Garfunkel
Albatross by Fleetwood Mac
Smile Nat King Cole
Along with music, a reading from the person's favourite poet or author is a meaningful way to reflect on their life and bring their personality and outlook into the ceremony. It is important to remember that, as with music, a reading does not have to have anything to do specifically with death if you don't want it to: a beautiful description of summer, a powerful poem about love, or something short, sweet and funny - there are many different options when it comes to personalising this powerful and reflective part of a ceremony. Some classic and touching readings might be:
​Death is Nothing at All by Henry Scott-Holland
​When I am Dead, My Dearest by Christina Rossetti
Roads Go Ever On ​by J.R.R Tolkein
A Clear Midnight by Walt Whitman
The Road Not Taken by Robert Frost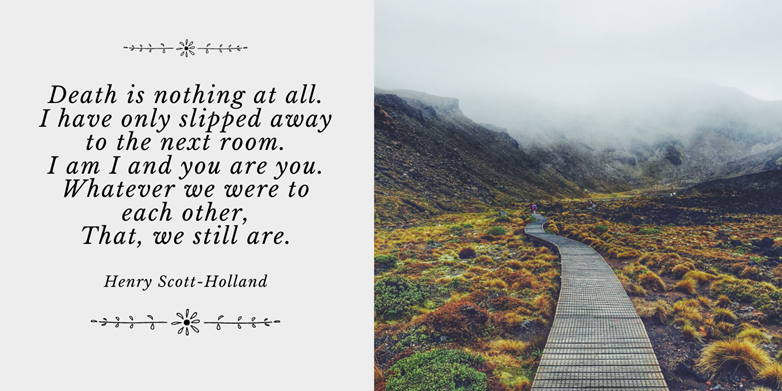 Humanist Funerals
A common option for a non-religious ceremony is a Humanist funeral. Humanism is the belief that we only have one life, and that it's best to make decisions centred on a strong sense of ethics with happiness and welfare in mind. If you choose, there are many local Humanist Celebrants who take on the role that would commonly be filled by a religious official. They will listen closely to your wishes, aiming to learn all they can about the person to create a touching celebration of their life, whilst acting also as an emotional support, advising on practical matters and setting time aside for friends and family to speak as well if they wish. You can easily search around and look for a Humanist Celebrant near you.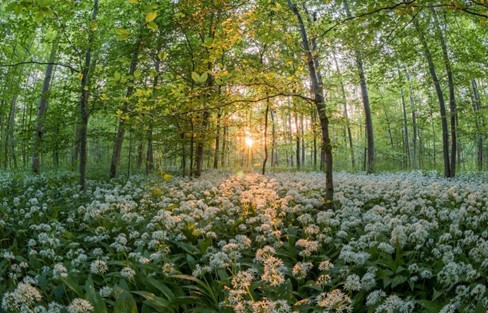 Alternatives to Traditional Burial 
Without the religious motivations for a traditional burial in a churchyard, there are many different reasons people might choose another type of burial. An appreciation of nature can bring a great deal of calm and peace in life, which is why many people are choosing to opt for a natural burial instead. This can take place in a specially purposed site, typically a plot of woodland chosen for its natural beauty, where people can be laid to rest knowing that they and the people who visit them afterwards will be surrounded by the trees, flowers and wildlife. All wooden coffins are biodegradable, but the popular addition of an eco-coffin can bring a further appreciation of nature to a burial, as it is without any of the traditional metal fixings that remain in the earth.
We aim to accommodate any and every request you might have for your ceremony, discover how we can accommodate alternative funerals.