Get to Know: Headstone Engraving in East Sussex
Are you looking for headstone engraving ideas?  What should be engraved on a headstone?
What is the Process of Having a Headstone Engraved?
Stonemasons make and install headstones, gravestones, and memorials. There are different headstone materials to choose from, but granite is the hardest stone and stands the test of time well. Other excellent gravestone materials include Welsh slate, limestone, and Cumbrian green slate.
When it comes to the type of stone and the engraving, it's important to note that all headstones must meet the criteria that the churchyard or cemetery sets.  Not all engraved designs and materials are accepted everywhere.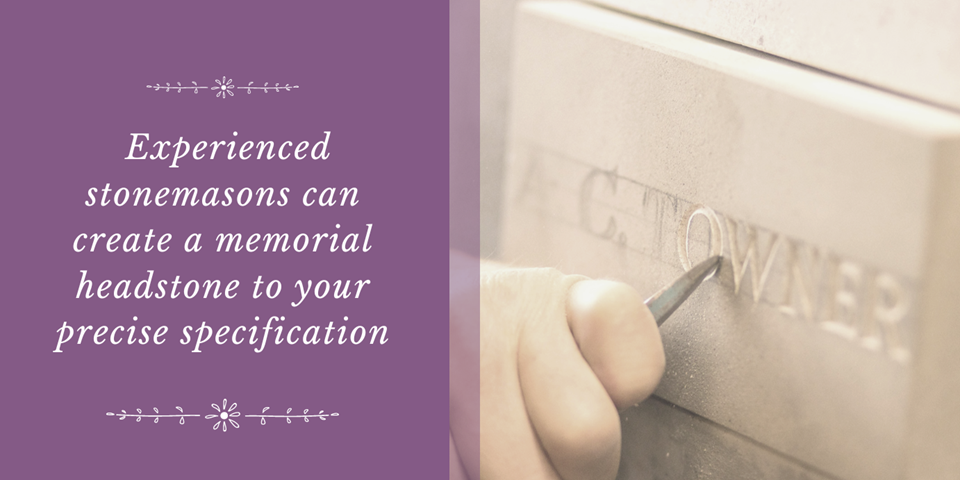 Experienced stonemasons can create a memorial headstone to your precise specification. As a local family firm of funeral directors and stonemasons in East Sussex, we can advise on the best combination of materials and lettering, ensuring they meet the requirements and regulations for the East Sussex area.
Creating a headstone can be a lengthy process; gravestones are not usually installed until six months after a burial. This allows the ground to settle and become stable which avoids any subsidence later.
Once the inscription, wording and design have been chosen, before our stonemasons carve anything onto the headstone everything is marked out. This is done in pencil for hand-cut letters, or as a computer print-out for machine-cut letters. This is then checked carefully by all parties before work starts, as changes can easily be made at this stage.
Once erected, if a headstone needs to be changed, small changes can be made on site. If the changes required are more involved, then the headstone may need to be removed to the workshop.
Existing gravestones and headstones can also be repaired or restored; this includes re-lettering and re-gilding inscriptions. Grave restoration breathes new life into a headstone, bringing back the true colours of the stone itself and the headstone engravings.
How Much Does It Cost for Headstone Engraving?
The price of engraving an inscription on a headstone depends on the amount of lettering and whether it is machine cut or hand cut. There are also multiple options for incised or raised lettering, painted gold, or gilded. Prices are per letter, starting at £2.40 for machine cut incised lettering.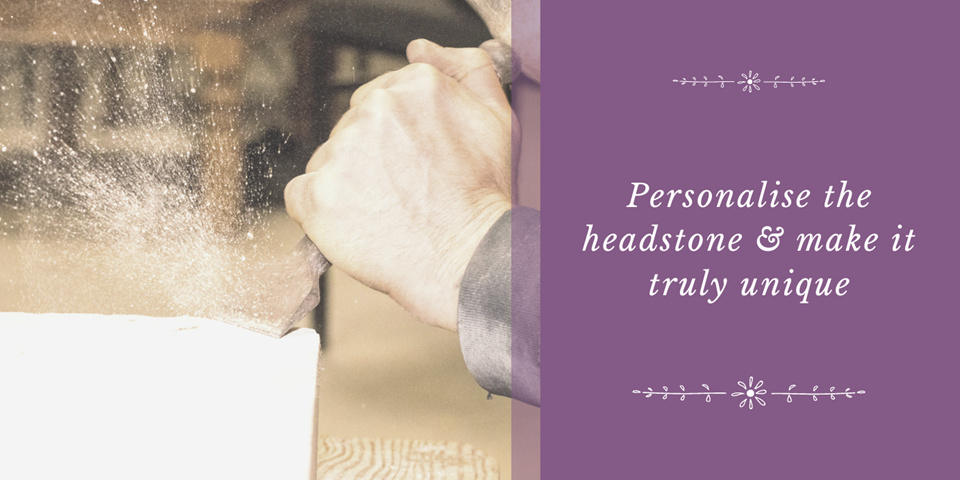 Gravestone Engraving Ideas
As a lasting memorial dedicated to your loved one, choosing an inscription, words, a picture, or an image to engrave on a gravestone should be carefully considered. Creative stone masons can add almost any design: some popular choices include birds, butterflies, roses or symbolic designs such as a Celtic cross. These can all be tailored to your requirements as a fitting memorial for your loved one featuring their hobby, work, or something special to them. This is an opportunity to personalise the headstone, beyond just an inscription and make it truly unique.  
Beautiful Words for a Headstone
Picking a meaningful inscription or beautiful wording for a memorial headstone can be a challenging and sometimes difficult decision. Many people opt for traditional and more formal wording for example: 
Beloved Memories of.
Always In Our Thoughts
Treasured Memories of.
In Loving Memory of.
Cherished Memories of.
In Ever Loving Memory of.
Encapsulating the spirit of your loved one in just a sentence is no easy task. You can take inspiration from poetry, rhymes, funny quotes, or words from a line of a favourite song; all these can be used as a fitting quote. The only condition is the number of letters and words that fit on a headstone.
For further ideas and advice on finding the right wording for your loved one, read our Guide to Choosing a Memorial Inscription.
Examples of Famous Headstones
One of the most recent famous headstones is that of Queen Elizabeth II. The Queen's name was inscribed alongside her mother's, father's and husband's on the stone in St George's Chapel at Windsor Castle. Engraving another name on an existing headstone is a real tribute to a special connection or relationship. It is also an eco-friendly 'green' way to remember your loved ones together.
When Robin Gibb from the Bee Gees died, his family chose not only to have the front of the headstone engraved but also the reverse, rather appropriately with their famous song title 'How Deep Is Your Love'.
Our highly experienced stonemasons will be happy to give a quotation for the engraving of a headstone, along with a memorial design which is right for your loved one. You can contact our stonemasonry workshop direct on 01424 713 124 or email stonemasons@towners.co.uk to make an appointment.