Stonemasonry at Towners - A Conversation With Freddie
At Towners, our Stonemasons have played a pivotal role in assisting families to pay their respects and honour their loved ones for many years. We sat down with Freddie, our Stonemasonry Manager, to gain insight into the world of stonemasonry and the creativity involved in producing lasting memorials.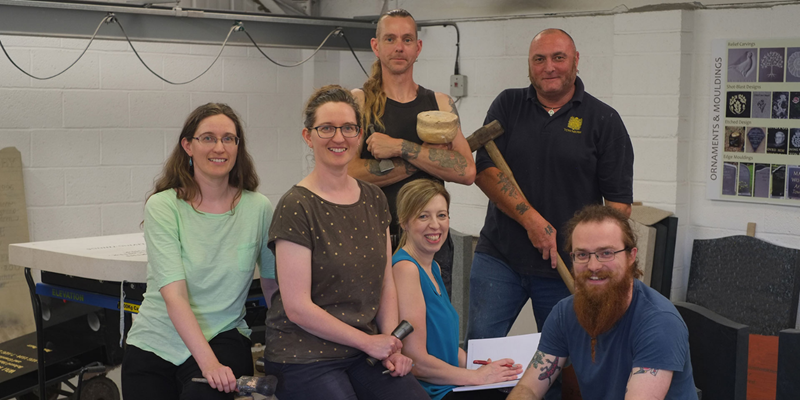 How did you become interested in stonemasonry? What inspired you to pursue it?
Freddie's journey into stonemasonry wasn't a conventional one. He started in the company as a funeral director, managing funeral sheets and other administrative tasks. However, his passion for craftsmanship and an opportunity led him to move into the world of stonemasonry. Seven years ago, when the position of Stonemasonry Manager opened up, he stepped into the role. He says that it was his creative streak which drew him to the field, with "many of the masons themselves painting or restoring local churches and monuments in their spare time". This creative spirit draws individuals from various backgrounds to the art of stonemasonry.
Is all the masonry done by hand?
While modern technology has made its mark on the industry, the essence of stonemasonry still lies in traditional craftsmanship. "Ancient tools like the dummy-lettering hammer and chisel method continue to be a part of our work," he says, "these techniques, although more labour-intensive, offer the option for those who want to add a handmade touch." The larger portion of our lettering is produced using blasting, where rubber stencils are overlaid on the memorial and a machine cuts the lettering automatically. It's modern methods like these that save time and allow anyone to be able to afford to honour their loved ones with a high-quality headstone or other memorial. 
Can you share any memorable or unique experiences you've had while working on stonemasonry projects?
Freddie reflects on some of the unique projects he and his team have had the privilege to work on. While many families choose classic designs for headstones like polished black granite with gold lettering, some seek distinctive and unusual designs. "One family wished for a large pyramid design for their loved one, but cemetery regulations posed a challenge. Our solution was a Toblerone-shaped design that accommodated intricate, bespoke carvings and lettering. The family were delighted with the result and it was great to see their reactions." In another touching project, a family who had lost a child requested a custom design. Freddie and his team exceeded their expectations, showcasing the creativity and dedication to truly representing the life of the deceased that goes into every memorial they create.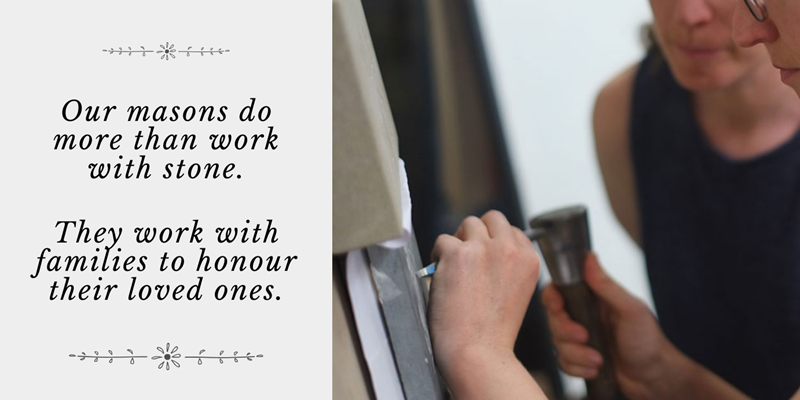 Are there any environmental considerations or sustainable practices you follow in your stonemasonry work?
The stonemasonry industry acknowledges its environmental impact, particularly in quarrying stone. Freddie points out that most of the industry's granite is shipped from China for shaping. However, Towners is committed to reducing its carbon footprint in other aspects of their work. They are gradually moving away from lead lettering on headstones, a material known for its longevity, as it was invented by the Romans to ensure lettering on fountains remained intact. Modern alternatives involve innovative techniques such as reverse-shot blasting, where rubber stencils are used to raise the lettering by carving the stone behind it. The lack of a need for any fixings preserves the environment and ensures the longevity of memorials.
Are there any trends that are changing, or do things tend to stay the same?
The stonemasonry industry, like any other, is influenced by trends and preferences. Freddie notes that trends are often dictated by cost considerations. What was once expensive may become more affordable over time. For instance, black granite, once a premium choice, is now more accessible. However, to truly stand out, families often seek something unique. With various finishes available, such as polished or honed, it's essential to visit cemeteries and gain inspiration from existing memorials. Even with similar budgets, the choice of design and material can make a significant difference in the final result.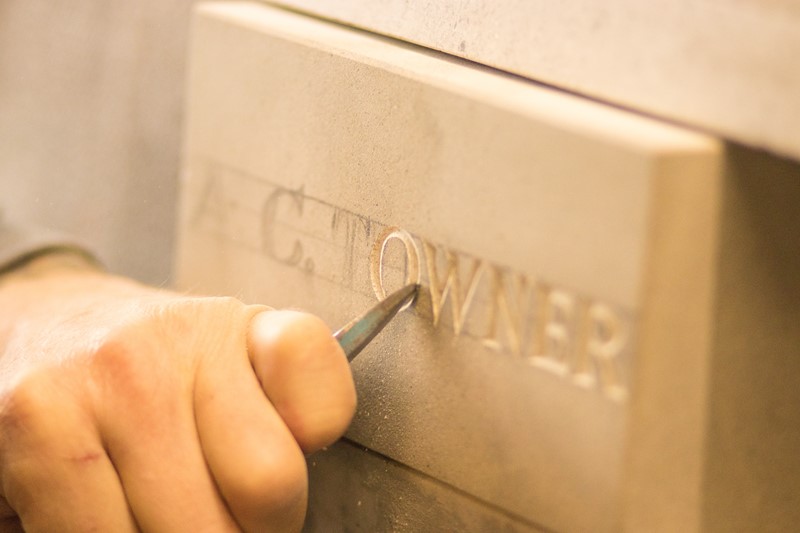 What's your favourite part of the job?
"The most important part of our role has less to do with the stone itself, and more to do with working closely with families and listening to their wishes. My favourite part of the process is watching our hard work come together and seeing the reactions from those it means the most to. It can be emotional, but it feels as though what we do is really worthwhile."
It's the human connection and the opportunity to make a positive impact during difficult times that make stonemasonry more than just a craft—it's a heartfelt endeavour. This stretches to all of our services at Towners, from funeral directors to our administrative staff, it is important to all of us that families and loved ones feel respected and heard. 
In closing, our conversation with Freddie provides a glimpse into the world of stonemasonry, a craft that blends tradition, innovation, and creativity to create enduring memorials. At Towners, we take pride in our Stonemasons, who not only preserve the memory of those we've lost but also bring comfort and solace to grieving families through their remarkable artistry.